About AVVA
Associates of Vietnam Veterans of America (AVVA) is a national, nonprofit Membership and Service Organization dedicated to advancing the awareness of issues affecting Vietnam Veterans, their families, and their communities. Over the years, we have evolved into an organization that has become cognizant and responsive to the problems affecting all Veterans.
In our infancy, AVVA was a group of members within Vietnam Veterans of America, Inc. In 1999, as the scope of activities and the number of members grew, the Associates of Vietnam Veterans of America, Inc. was established. AVVA now functions as an independent Membership and Service Organization. AVVA continues to work in conjunction with Vietnam Veterans of America, Inc. (VVA) striving to ensure that Vietnam veterans, as well as ALL veterans, attain the honor, respect, and benefits they deserve. We lend our expertise, support, and leadership to all VVA programs, legislative actions, community service, and social activities, while remaining actively involved in our own programs, legislative agenda, and services.
AVVA is the extended family of VVA. We are made up of Veterans of all eras, familes and friends of Veterans, and all persons who support Veterans' issues. AVVA is a catalyst for action, healing, reconciliation, mutual support, and fellowship. With more than 8,000 members, we are a thriving and strong organization. Read the history of AVVA at this link: AVVA History.
AVVA is a non-partisan, tax exempt organization.
AVVA is similar to any other non-profit business, with an organizational structure like most Corporations. Below you can view an organization chart, which will help to understand how the different levels interact.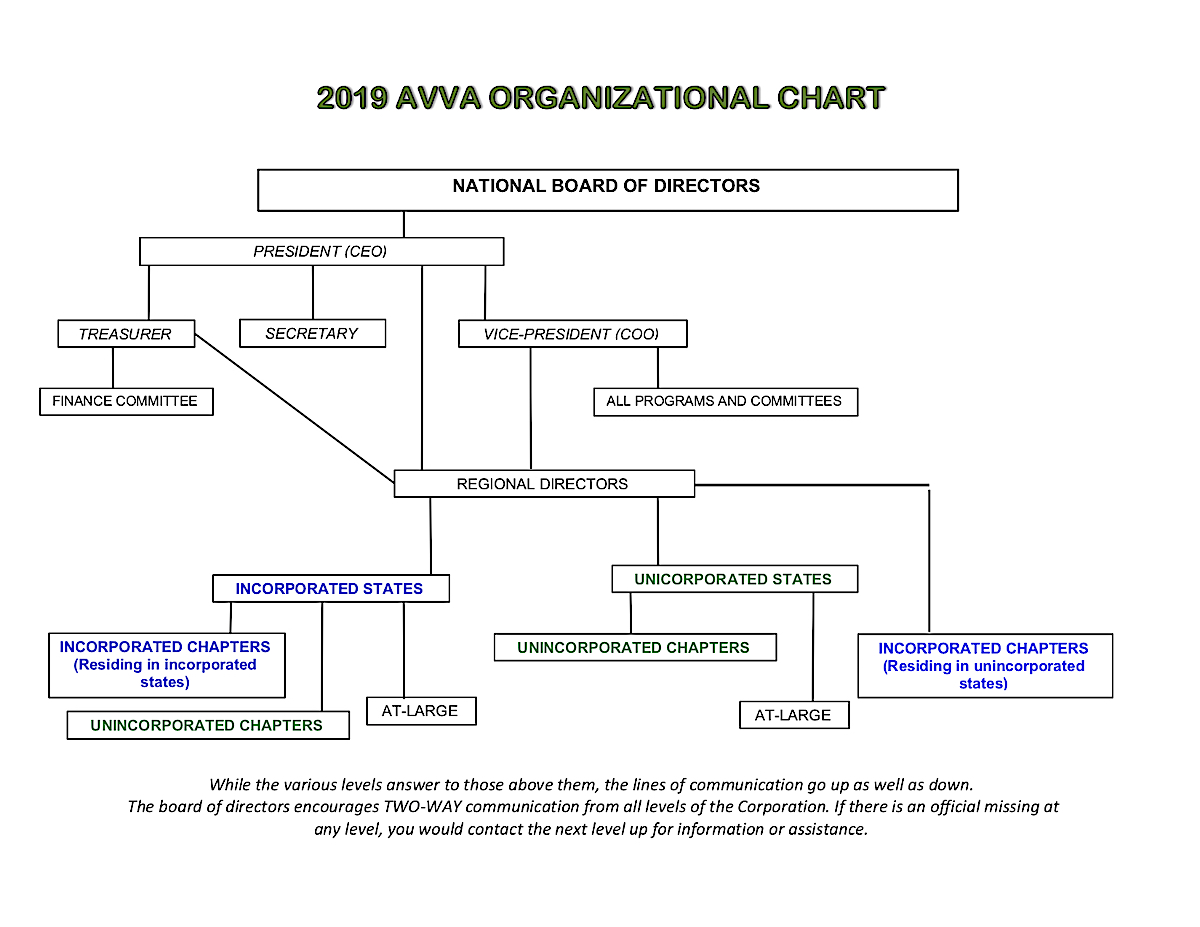 The Connections go up as well as down, to encourage communications from the local levels all the way up the chain.