AWARDS:
THE 2021 AWARDS NOMINATIONS ARE NOW CLOSED!
The deadline for submitting nominations for the AVVA Cathy Keister Spirit of Excellence, Fellowship and member of the year awards was June 20.
Every year the AVVA national president presents our highest honors in the form of the National President's Commendation Medal. If you know of any AVVA member whom you feel is deserving of consideration for this award, please email the national president at: avva2003@cox.net with the information.

* THE 2020 NATIONAL AWARDS *
Below please find the names and, because we were unable to present these awards at an event, the award narratives for our 2020 AVVA National Award recipients. We are very proud of each and every one of them!
THE AVVA PRESIDENT'S COMMENDATION MEDAL
The President's Commendation Medal is the highest award given by AVVA. This medal is awarded to members who have accomplished something that has been of great benefit to AVVA, or which has been a singular inspiration to others, whether it be a single incident or a series of actions, involving activities that bring AVVA into a good light, and that enhance us in a significant way.
The 2020 President's Commendation Medal Recipients are:

Jennifer Ellis: President Chapter 805,
Oregon State Representative

Jennifer is an admirable leader in her chapter and in her state.  When she took over her role chapter 805, very unexpectedly, she set a standard with both her own members and the VVA chapter members that enhanced their working relationships and encouraged new relationships.  She was instrumental in finalizing and carrying out a plan that had been offered by a previous chapter president, leading the way in making a reality of the Moods in Music © program, intended to help prevent suicides and give Veterans a new outlet for PTSD and other issues.  This was a group effort, but Jennifer put her heart and soul into making this program a reality and a success.  And a huge success it is! 

Her positive attitude inspires those around her.  Because of one simple conversation with a chapter in a different state, that chapter was moved to donate $300 to the Moods in Music © program run by Jennifer's Chapter.  Their generosity was so appreciated.

Jennifer is a shining light in AVVA, and we are so grateful to have her.

I am proud to award the 2020 National President's Medal to Ms. Jennifer Ellis.

Congratulations Jennifer!

Cecilia Essenmacher (rt):  National Membership Chair, National Policy and Procedures Chair,
Region 5 Deputy Director

(Awarded by Penny Meinhardt, MI State President)

Since my election, Cecilia has spent untold hours assisting with things that were not her job to do.  While she has done an extremely good job in her own roles, she has assisted me with many research tasks, problem solving, proof-reading jobs and more.  Because we are now a 501 (C)3 corporation, other organizations look at us more closely, to see how serious we are.  Cecilia has put 100's of hours into reviewing our policy to make our language more cohesive and to verify that we do not have conflicting details. She spent many hours proofing the new website, testing each link, and reading the entire text.  She has also created an entire new system to locate our chapters for those who are new, or who are moving to a new area.  This is an inventive way of helping our members that we have never had before.  Until we can afford a massive data-base program, this system will be very helpful.  Cecilia has also begun to develop a verification system for our incarcerated veterans, which is sorely needed.  She has gone above and beyond this entire past year.

I am proud to present the 2020 National President's Medal to Ms. Cecilia Essenmacher.

Congratulations Cecilia!

Carl Curtis: PA Chapter 862 Board Member, Chair of the Tom Robes Veteran Assistance Relief Fund

As Chair of the AVVA Project "Tom Robes Veterans Assistance Relief Fund", Carl spends untold hours verifying the needs of local veterans, finding the background information and locating veterans in need who cannot find the courage to ask for help.  With his leadership and direction Chapter 862 AVVA has provided the help needed in countless situations.  Carl is involved with finding resources and actually providing local veterans with solutions to immediate needs such as paying rent, or utilities, or other aid that cannot wait.

Carl travels to The Hill in DC to lobby on his own, and on his own dime, and weighs in on bills that come before House of Representatives/Senate; reporting back to AVVA 862 and the Chair of our Government Affairs Committee on those items which we can act on.  Carl also keeps up with the PA State legislature and attends Round table discussions at our local VA and VA Satellites.   He does this as a representative for Chapter 862 AVVA. Using his own funds

Carl works with many Veterans, as a coordinator, and provides educational information to Veterans about submitting claims to the VA.  Carl has gone out of his way in transporting Veterans to clinics, VA centers, hospitals, and helping (out of his own pocket) the homeless Veterans into their new homes.

I am proud to present the 2020 National President's Medal to Mr. Carl Curtis. USMC (Retired)

Congratulations Carl!
THE CATHY KEISTER SPIRIT OF EXCELLENCE AWARD
This is the second highest award given by the Associates of Vietnam Veterans of America (AVVA).  It is second only to the President's Commendation Medal and has its own unique, stringent criteria.  The main essentials include a person who others naturally follow; a good leader; someone who inspires, mentors, trains, and otherwise encourages AVVA members to be the best they can be.
THE CATHY KEISTER SPIRIT OF EXCELLENCE AWARD RECIPIENT(S)
ARE THE TEAM OF CRICKET (Corena) DIXON AND TRINA TEIBEL: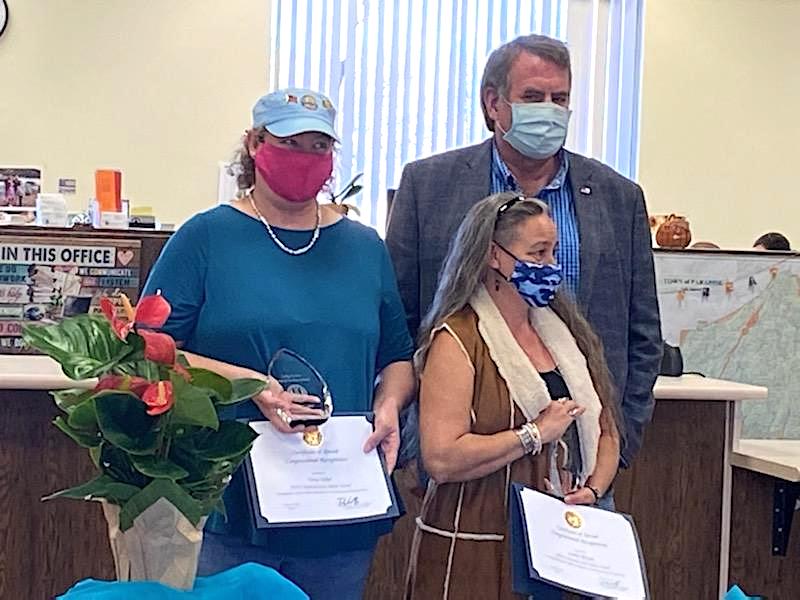 L to RT - Trina Teibel, Cricket (Corena) Dixon, CA Representative Doug LaMalfa
Trina has been involved in all fundraising projects in her chapter over the last 20 years. She is part of a charitable program called "Hydrate our Cops".  Chapter 582 contributes thousands of bottles of water each year to the local law enforcement to assist officers and victims with a convenient water source during the hot summer months.
Trina and Cricket were pivotal in assisting the Campfire Survivors (Fires in Paradise, CA) however, inspiring others to follow her. Trina and her husband experienced extensive damage to their home caused by the devastating fire, but this did not stop her from continuing to work tirelessly for others.
As the Donations Coordinators, Trina and Cricket coordinated with the DAV commander to acquire food for "Patriot Donations".  Cricket and Trina collected donations of all kinds from around the country and stored them in Cricket's greenhouse.  Cricket and Trina distributed these donations (gift cards, food, supplies etc.) to Campfire Survivors, which included primarily Veterans, Veteran's families, and others.
Trina also assisted in the Yurt Program; along with Cricket and with help from Lea Jones, a fundraiser event that featured a documentary file about Vietnam was held.  Thus, further donations were contributed to the Campfire Veteran Survivors through this fundraiser.
Trina and Cricket kept accounting of all donations and sent thank you notes to all contributors. 
Additionally, Trina is an outstanding advocate for AVVA!  She is constantly searching for new members.  Because of Trina's encouragement, our membership has grown, and others are more involved.
In the initial stages after the campfire (The devastating Paradise, CA fires), Cricket Dixon opened her home to assist campfire survivors.  Cricket became the Donations Coordinator for the combined Veterans Organizations in the Chico and Paradise areas.  Cricket and Trina collected donations of all kinds from around the country and stored them in Cricket's greenhouse.  Cricket and Trina distributed these donations (gift cards, food, supplies etc.) to Campfire Survivors, which included primarily Veterans, Veteran's families, and others.
Cricket also allowed her home to become ground zero for the set-up of the Yurt Housing Program.  The Yurt program included the training of volunteers on how to build and set-up the Yurts for the homeless Campfire Survivors.  To get the message out to the public regarding the need for donations and the Yurt Housing Program, Cricket was interviewed on the radio, and was so inspiring that she helped generate a substantial increase in donations.
Cricket did not stop with her efforts in assisting the Campfire Survivors, she emptied her own personal emergency pantry and donated yarn to Mimi's Angels to enable hats to be made for survivors. 
As hard as these times were, Cricket said often: "I would do all of it again and again for our Veterans".
These two women are an inspiration to us all!
AVVA FELLOWSHIP AWARD
This award is reserved for a person who has, over time, displayed a dedication to the spirit of AVVA, its core values, mission and vison, in a manner that sets them apart from the average member.   This person must have influenced the perception of AVVA and devoted themselves to its primary objectives.
THE AVVA FELLOWSHIP AWARD IS PRESENTED TO:

Percilla Newberry: Chapter 404,
AVVA Texas State President

Percilla Newberry has been an AVVA member since the 1980's.  Her commitment is strong in helping others with VVA/AVVA or of anyone in need.  Percilla works at a greater scale as a state president, but she is very familiar with community service stepping outside her normal environment for civic engagement, state responsibilities, and national involvement.  She mentors many in AVVA & VVA, and the community.  Her skills are strong in recruiting and has a talent to spot the right person for the job.  She is an inspiration to those around her and those who know her.
 Percilla has served as Chapter Representative, State President, and Region Director.  Percilla has served on the Texas State Council State Scholarship committee and on the AVVA National Awards committee.  She also serves with the Salvation Army, United Way, and the American Red Cross in her community.

Percilla is strong, dedicated, outgoing and confident.  Texas couldn't ask for a better person to be leading the Associates of Vietnam Veterans of America in their state and we are proud of her service in AVVA.
AVVA MEMBER OF THE YEAR
The AVVA Member of the Year is a person who has demonstrated a dedication to this organization in a way which brings AVVA a strong reputation, while unselfishly serving his or her chapter, state, and community.
THE AVVA MEMBER OF THE YEAR IS:

Holly Tookolo (rt): Chapter 295, IN

(Awarded by Don Jones, Region 5 Director)

Holly exemplifies a merging of what you love to do with what is important to you.

Holly spends anywhere from 15 to 20 hours a week, sometimes more, at the Fort Harrison Veterans Center in Lawrence, Indiana helping the service officers file, submit, process and enroll claims into the VA system.

When the Chapter 295 treasurer passed away in March 2019, President Larry Shaw asked Holly to help with paying the bills keeping records for the Chapter and she did not hesitate.

If it wasn't for Holly's expert research and computer skills, Chapter 295 would not have a monthly newsletter. Each month, she e-mails it out to the members and makes sure those who don't have e-mail have it mailed to them. Additionally, she puts extra copies at the Fort Harrison Veterans Center and Roudebush VA Medical Center in Indianapolis for others who are interested.

Holly's commitment knows no bounds within the Veteran community throughout Indiana. She is active with other organizations across the state to help spread the AVVA word.

Each Veteran's Day, Holly marches with AVVA Chapter 295 & VVA 295 in the Indianapolis Veteran's Day Parade and has for several decades now. At Christmas, she helps organize the Chapter Christmas Party.

When the Moving Wall comes to town every few years or so, Holly can be found at the locator tent with her trademark ability to be a strong shoulder, someone to talk to or just to have a fast bite to eat with.

Most recently, she has been attending Lawrence Chamber of Commerce meetings to help spread the word of AVVA 295. During this unprecedented time, she is also making masks to protect the most vulnerable among us. Not asking for anything in return. Thank you, Holly, for your service to AVVA.
VISTA AWARDS 2020
VISTA is the AVVA program that rewards our members for the hours they volunteer in their communities.  All members who turn in volunteer hours receive a 2020 VISTA Volunteer lapel pin.  The Region, State, Chapter and Individual who turn in the most hours in their category receive an award.
THE 2020 VISTA RECIPIENTS ARE:

Top Region – Region 3 with 11,995 hours

Top State – Tennessee with 5,842 hours

Top Chapter – Chapter 1004, TN with 2724 hours

FIRST PLACE INDIVIDUAL GOES TO:
Rita Clifton with 886 hours, from chapter 772 in Georgia
(Awarded by Susan Henthorn, Region 4 Director)

SECOND PLACE INDIVIDUAL GOES TO:
Connie Jones, Chapter 860 WV

THIRD PLACE INDIVIDUAL GOES TO:
Carolyn Mitchler, Chapter 671 GA
(Awarded by Susan Henthorn, Region 4 Director)
CERTIFICATES OF NOMINATION WERE SENT TO:
Cathy Keister Spirit of Excellence Award Nominees:
Percilla Newberry – Texas
Holly Tookolo - Indiana
Fellowship Award Nominee:
Rebecca Gibbens - Michigan
Member of the Year Nominees:
Elizabeth Gonzales – Texas 
Mary Fontenot – Louisiana
CONGRATULATIONS TO EVERY ONE OF YOU!

THE AVVA 2019 NATIONAL AWARDS ARE:
The 2019 Fellowship Award: Timothy Bray, LA Chapter 689
The 2019 Member of The Year: Frema Wilson, WV Chapter 949
(Photos not available)
THE 2019 PRESIDENT'S COMMENTATION MEDAL RECIPIENTS:
Suzie Meeks, TX Chapter 343
Susan Price, TN Chapter 203
Barbara Miller, MD, National Parliamentarian
Nancy Montgomery, VA Chapter 969
Nina Schloffel, CA Chapter 391
(Photos not available)

THE AVVA NATIONAL AWARDS FOR 2018 ARE:
AVVA FELLOWSHIP AWARD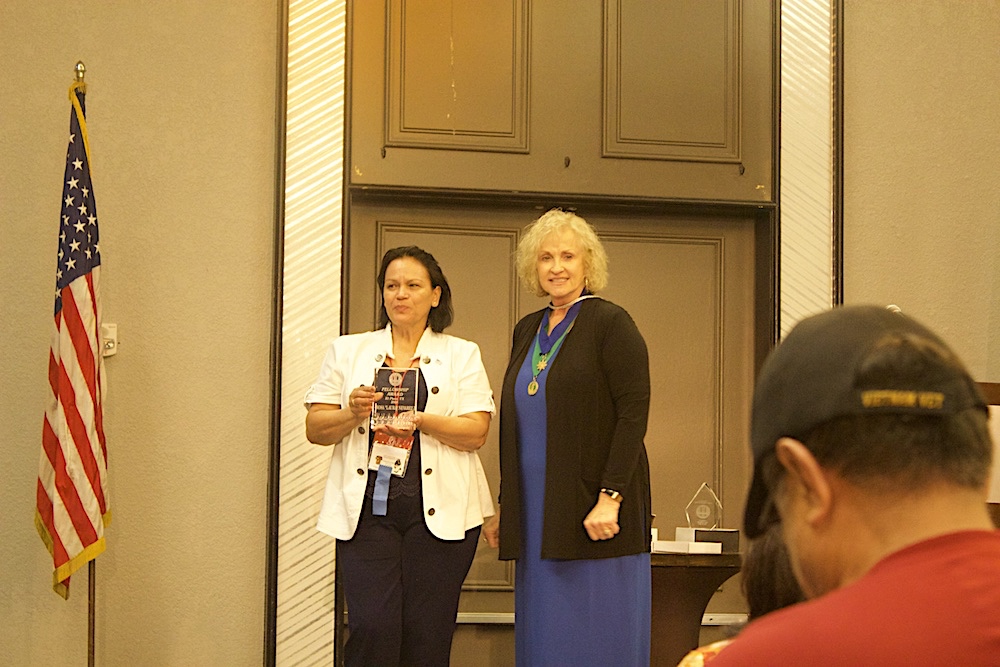 Rosa Nevarez, member of Chapter 574, TX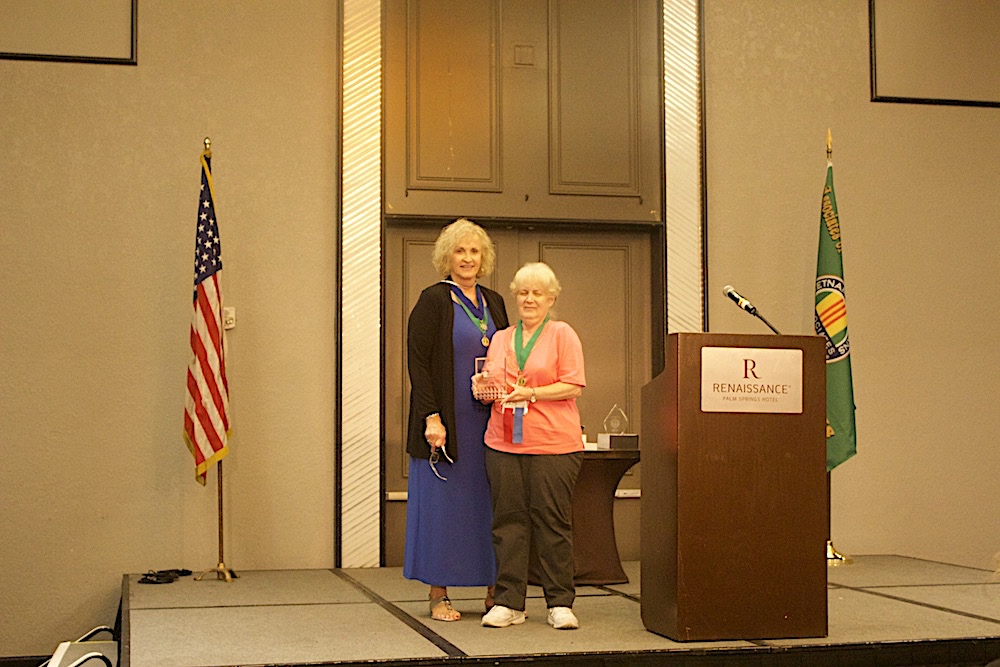 Also receiving the AVVA Fellowship award this year is
AVVA Chapter 966, NC, both AVVA and VVA. The award
was accepted on their behalf by AVVA Region 3
Director, Kaye Gardner.
AVVA MEMBER OF THE YEAR: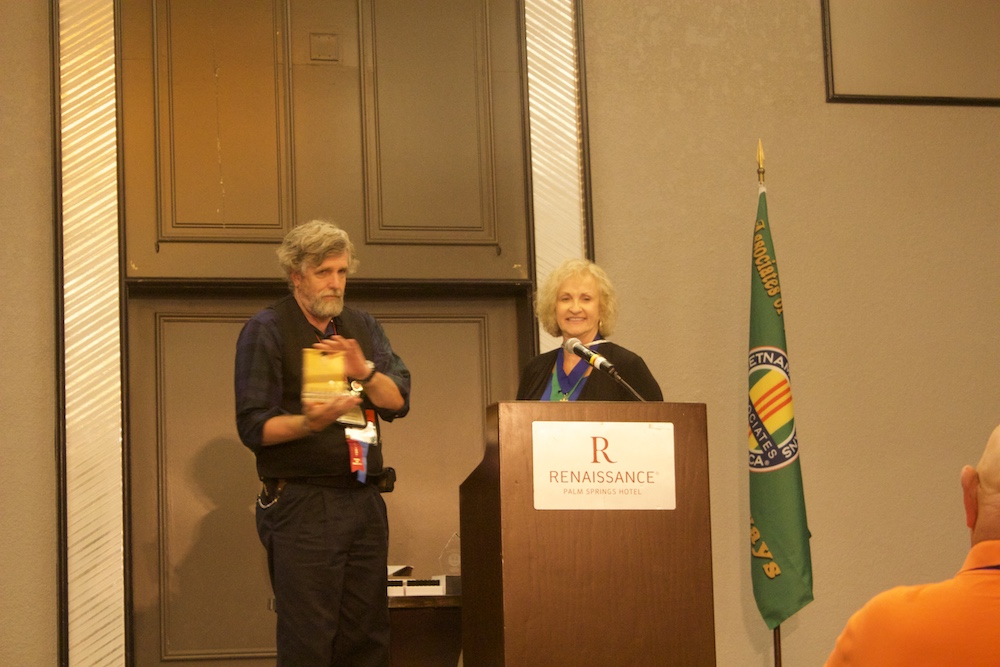 AVVA Member of the Year is Willa Burgess, member of Chapter
1087, MT. Accepting for Willa is Region 8 Director, John Birch.
CATHY KEISTER SPIRIT OF EXCELLENCE AWARD: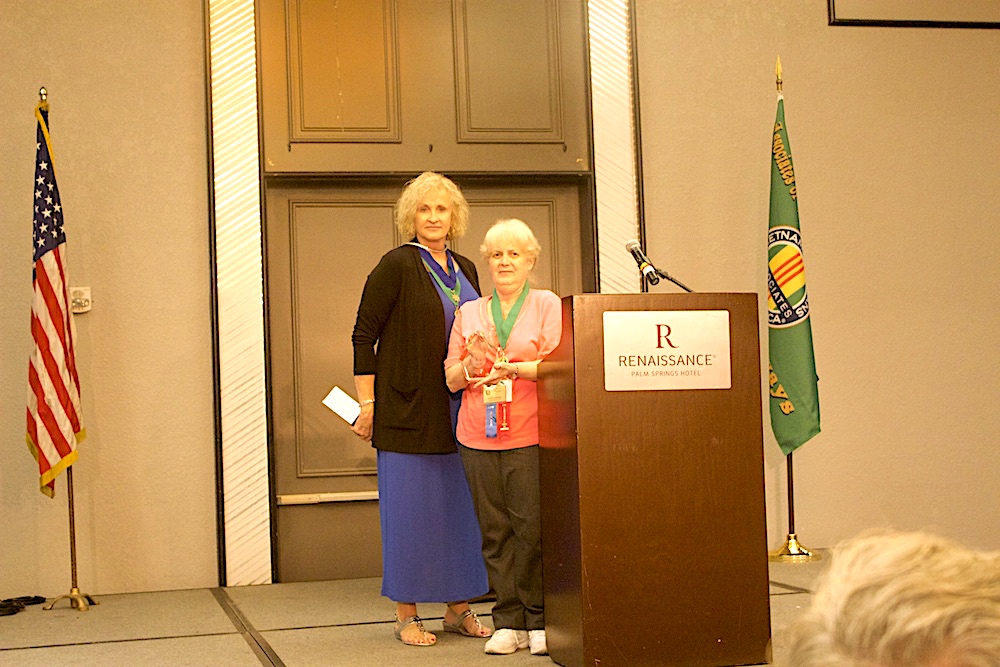 Awarded to Sandra Carl, AVVA Chapter 966, NC. Accepting for
Sandra is Region 3 Director Kaye Gardner.
THE PRESIDENT'S COMMENDATION MEDAL: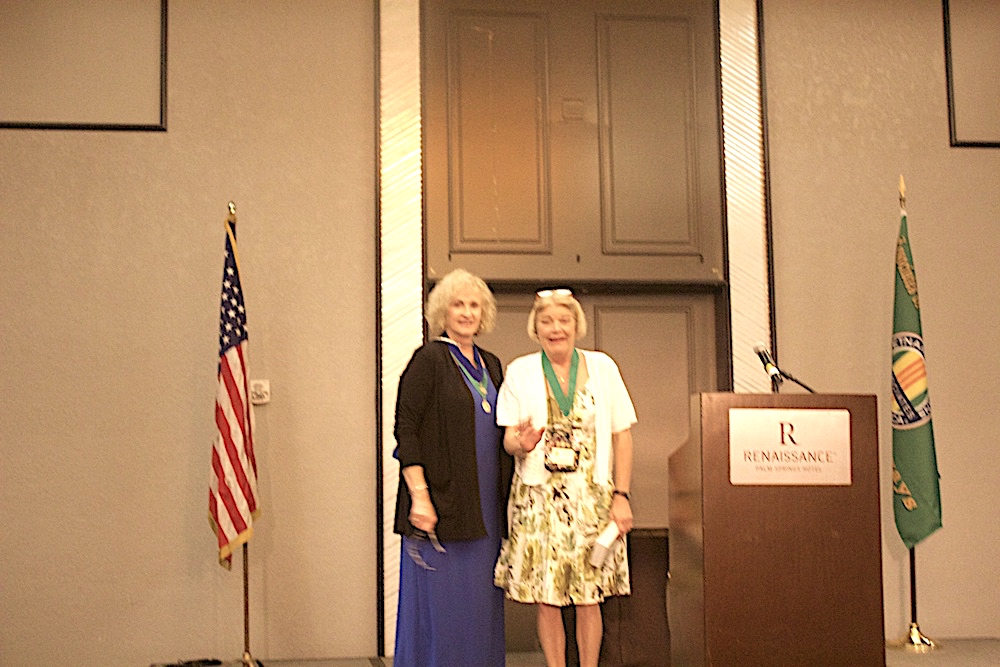 Awarded to Susan Henthorn, AVVA Georgia State President and ...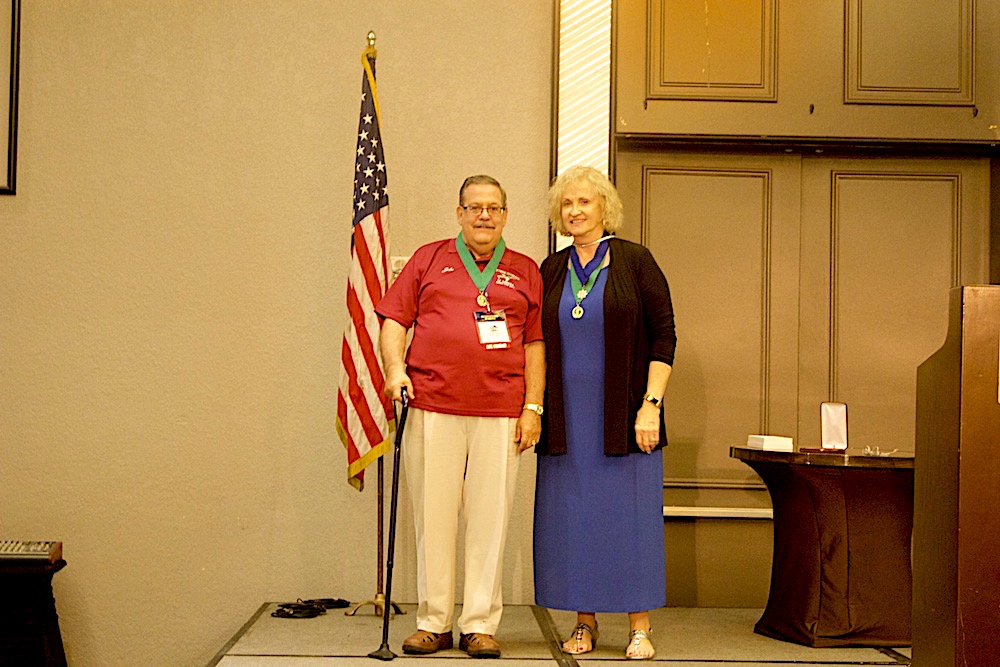 Jacob (Jake) Barsottini, AVVA Chapter 862, PA
AVVA VISTA AWARDS: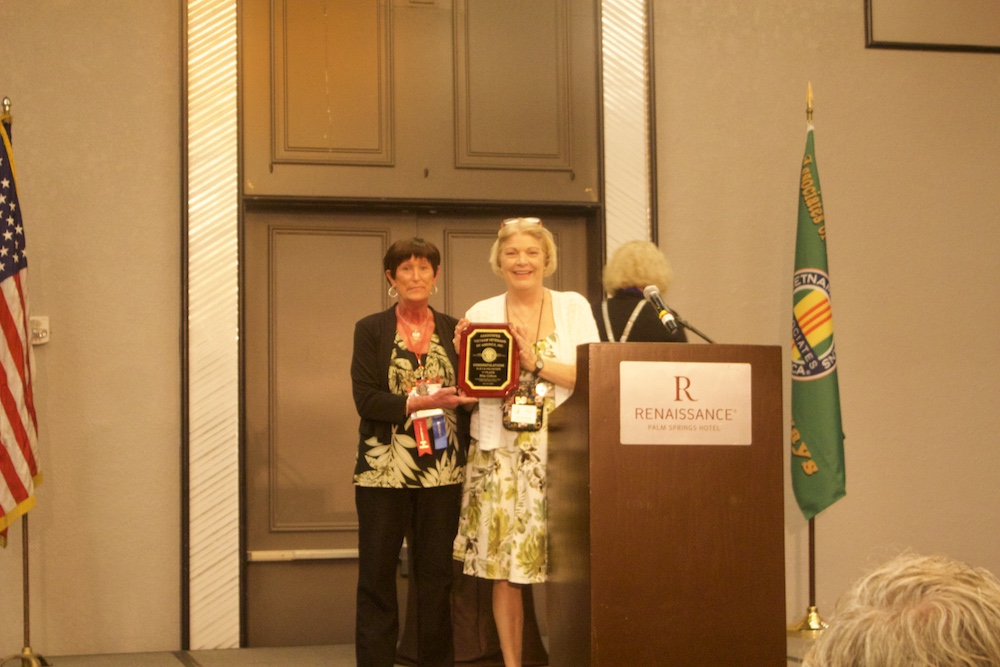 The first place award for an individual was presented to
Rita Clifton, with 1158 hours. The award was accepted for
Rita by Georgia State President Susan Henthorn.
VISTA second place award: Linda Myers
VISTA third place award: Linda Yates
VISTA first place for State: Tennessee
VISTA first place for Region: Region 3