NEWS AND ANNOUNCEMENTS FROM NATIONAL:
New Photos Added to the State/Chapter photo page! Click here
---
WHY JOIN AVVA?
A wonderful article by Lisa LaDieu of Chapter 377, NY, explaining how she feels
about being an AVVA Member!
 A.V.V.A

      How does one describe how they feel about a period in time that
they weren't a part of?  I guess it is possible to come up with a
feeling or understanding of it by reading about it or seeing it in a
movie or TV.  Honestly, if you want to really know, then you have to
ask a person who experienced it and to the best of their ability
explain it to you.  This subject matter however is very private and
sensitive and can be very hard to talk about.  What I am speaking of
is being a Veteran.  I was not a member of the service but did,
however, come from a family that had many relatives that served. My
father was Army in WWll, and cousins and Uncles that served in
Vietnam.  Growing up I never could get a grasp on any war because I
didn't understand why anyone would ever want to voluntarily risk their
life.  In my head the world was always rosy and unless I saw it in
person or it was happening at that time, I didn't believe it.  Wars to
me were events that happened so long ago, they were fought, there was
a winner and a loser.  You read about them in your history books at
school but I personally never let it sink in that they were real.

     It wasn't until I was asked to sing The National Anthem at
Motorcycle rides and events that involved our military veterans was I
able to start to let it in. Over the years being around and talking to
said men and women I then learned that these horrific and senseless
times in our history really happened.  The emotions I began to feel
were sad and angry because I know so many veterans now, and I hate
that they have to live with what they went through.

     After getting to know some of these men and women I was asked to
do much more than just sing.  I was invited to participate in events,
on a voluntary level.  Wreaths Across America was where I was asked to
join an organization called the A.V.V.A   I knew nothing of what they
were talking about and after it was explained to me I couldn't say
"yes" fast enough.  I always wondered what the vests that civilians
and some military people wore at the events.  Some had a few patches
with some pins and some were totally decked out that they looked to be
heavy.  One thing I did notice is that whomever was wearing one, they
looked full of pride, and very proud to be wearing it.

     Being a member of the A.V.V.A has changed my life for the better.
I have connected with so many and have made life long friendships.
There are a few that I now consider family and couldn't imagine my
life without them.  I have been told that my joining, and singing and
volunteering has given Chapter 377 a spark.  A younger perspective on
all sorts of things, but really, they have sparked me. I participate
more, get out more, sing more, and just generally feel better knowing
I can turn to any member and they are there for me. I guess it fills a
void where my father was.  I know it does.  If my father was alive now
I know he would be extremely proud of his only daughter.  I just wish
I had listened better and asked more about his time in the military.
I have so many pictures, so many with my dad in them and have no idea
what they are or why he was in them.  Who were the people in the
pictures beside him, and did they come home.  The answers to these
questions I will never know.

     I may have gotten a little off track with the reason why I am
writing this.  It has just really made me realize that I do love being
a member of A.V.V.A   I will not let these members of my "FAMILY" be
forgotten.  I am here to listen, I am here to help when I am needed, I
will proudly wear my vest and know that I will keep the V.V.A. alive
for as long as I can.  That is why it is so very important for new
members to join.  Do not let future generations be oblivious to the
truth of the Vietnam Veteran.

With All My Heart and Soul
Lisa LaDieu
---
AVVA DONATES TO FEEDING AMERICA, INC - COVID19 PROGRAM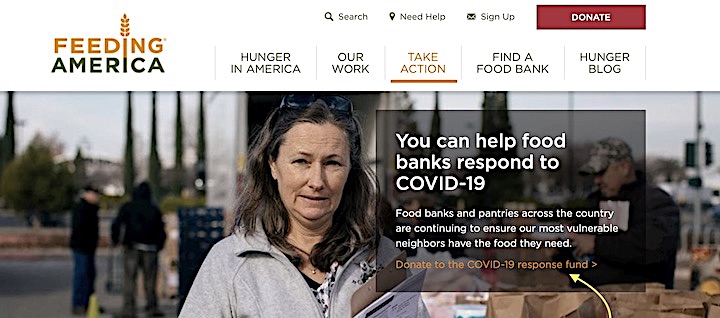 AVVA has donated $10,000 to the Covid-19 program run by Feeding America Inc. We wanted to help veterans and their families who are the most affected by the lack of income, homelessness, etc that has been exacerbated by this virus. Due to the savings of expenses that is a result of not being able to travel so far this year, we were able to put the money to good use! This donation translates to 60 thousand meals bought for those who need them!

Click here to read the thank you letter received by AVVA on June 9, 2020
---
* NOTE: PLEASE ALWAYS CHECK YOUR "SPAM" OR "JUNK" MAIL FOLDERS, AS YOUR SETTINGS MAY BE SUCH THAT SOMETHING SENT FROM A SERVER WILL BE SEEN AS SPAM. THE EMIAL WILL ALWAYS BE FROM EITHER "AVVA NATIONAL SECRETARY" OR "AVVA NATIONAL PRESIDENT".
---
VA ORDERED TO RE-DECIDE BLUE WATER NAVY CLAIMS!
READ THE FULL STORY HERE: VVA FLASH NOTICE
---
VA publishes final regulation for its Program of Comprehensive Assistance for Family Caregivers - Click here for the information!
---
TELL YOUR REPRESENTATIVE AND SENATOR TO SUPPORT THIS BILL!!!
Read about the new diseases that are requested to be added under Agent Orange exposure:
Congress to Finally Consider ...

---
DIC eligibility for survivors of Blue Water Navy Vietnam Veterans
If the VA denied your Blue Water Navy Veteran's service-connected disability claim in the past, you may be eligible for DIC benefits based on the Blue Water Navy Vietnam Veterans Act of 2019.
See DIC eligibility information and how to apply.
Veterans who served on a Blue Water Navy vessel offshore of the Republic of Vietnam, or on another U.S. Navy or Coast Guard ship operating in the coastal waterways of Vietnam between January 9, 1962, and May 7, 1975, are now entitled to a presumption of service connection for illnesses related to Agent Orange exposure. This is a result of Public Law 116-23, also known as the Blue Water Navy Vietnam Veterans Act of 2019.
WEB WEEKLY:
We are posting the VVA "Web Weekly" newsletter as it comes out. This will be a link to the browser version of this publication for the benefit of people who have different means of access. This is a bit experimental, but we hope it works out, because this is a very interesting news source.
VVA WEB WEEKLY NEWSLETTER - July 30, 2021
---
VVA PRESS RELEASE: LEAKING VETERANS' INFORMATION
CLICK ON THIS LINK TO READ THE PRESS RELEASE
VVA PRESS RELEASE! RE: TOXIC RESEARCH
CLICK ON THIS LINK TO READ THE PRESS RELEASE
VVA PRESS RELEASE! RE: FOREIGN ENTITIES TARGETING VETERANS ONLINE!
CLICK ON THIS LINK TO READ THE DETAILS
---
WILLIE IS FINALLY HOME!
For those of you who have heard this story, or any part of it, Sgt. Wille D. Clark, US Army Veteran, is finally home after a 10 month battle to bring his body home. Susan Henthorn, AVVA Georgia State Representative and Region 4 Director spearheaded a campaign to bring "Mr. Willie" back to the US from the Philippines where he had sought treatment for a serious illness. And a battle it was! We will be publishing an article explaining the entire situation later, but here we want to let those who are concerned know about the funeral. Willie D. Clark, US Army E6, will be laid to rest at the GEORGIA NATIONAL CEMETERY, on Thursday, August 8th, 2019. The Address is: 2025 Mt. Carmel Church Lane, Canton, GA. In lieu of flowers or gifts, Willie's daughter would like donations sent to AVVA.
AVVA
8719 Colesville Rd, Suite 100
Silver Spring, MD 20910

or use this link:
Region 4 Director presents a Medal Case
to Deannese Clark, Willie Clark's daughter

Medal Case


---
THE 2019 PROJECT FRIENDSHIP - HUGE SUCCESS!
AVVA's Project Friendship resulted in a donation to the Volunteers of America, Spokane, WA, in the amount of $17,561.00, See the Convention Page for more details!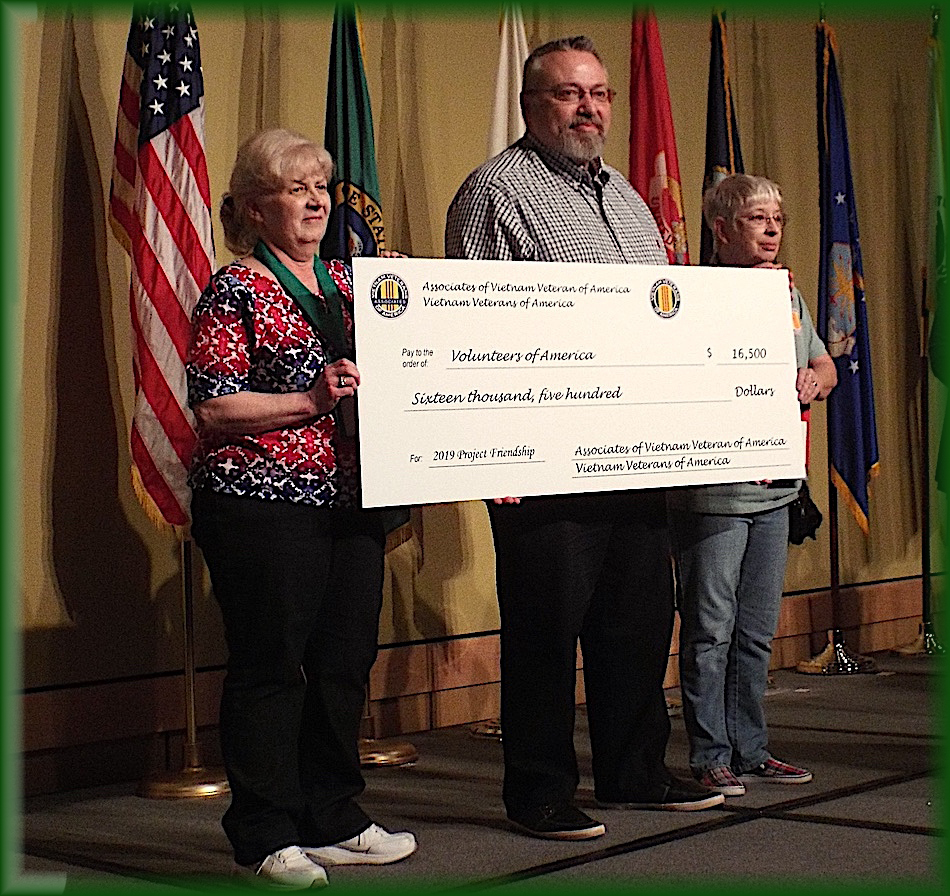 ---
NEW ARTICLE - K9S FOR WARRIORS
A Program for pairing shelter dogs with Veterans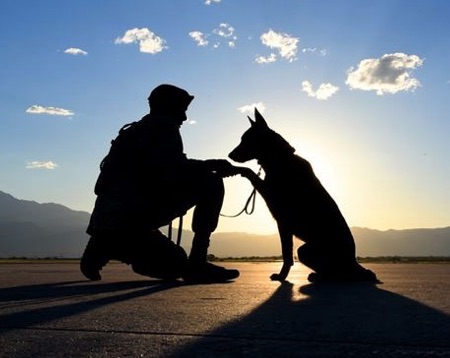 ---
Great News! - Partnership with MVCN
Military and Veteran Caregivers Network:

Nearly 6 million Americans care for wounded, ill and injured military service members and veterans of the pre- and post-9/11 eras. These "hidden heroes," which include parents, spouses, children, extended family members, friends and battle buddies, are often overwhelmed. They face significant challenges including: scattered resources, isolation, poor health and emotional stress. The MVCN supports caregivers of all ages, eras and stages, offering peer support and access to partner organizations' resources and services, with the goal of increasing caregivers' connectedness, hopefulness, wellness, knowledge and skills.
If you are any kind of caregiver, you will most likely find wonderful support from the MVCN.

---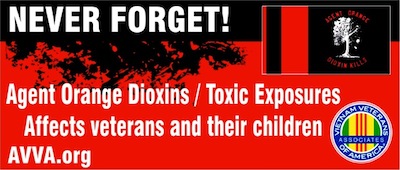 Associates of Vietnam Veterans of America has a new Agent Orange Awareness Billboard! The billboard is located on I-40, East bound at mile maker # 68, out from the Jackson, TN area toward Nashville, TN.
For more information on the affects of Agent Orange, visit: VVA Agent Orange Info
---


VISTA? WHAT IS VISTA?