WELCOME TO AVVA
Associates of Vietnam Veterans of America, Inc. (AVVA) is a national nonprofit membership and service organization. Working through the more than 600 local Chapters of Vietnam Veterans of America, and working independently, AVVA supports the needs of all Veterans, their families, and their communities.
On this website you should be able to find almost any information you may need regarding the basic functions of AVVA. Please check out all of the links and various pages in this site to learn more about AVVA and your connection to us.
---
2017 PROJECT FRIENDSHIP!
---
Great News! - New Partnership with MVCN
Military and Veteran Caregivers Network:

Nearly 6 million Americans care for wounded, ill and injured military service members and veterans of the pre- and post-9/11 eras. These "hidden heroes," which include parents, spouses, children, extended family members, friends and battle buddies, are often overwhelmed. They face significant challenges including: scattered resources, isolation, poor health and emotional stress. The MVCN supports caregivers of all ages, eras and stages, offering peer support and access to partner organizations' resources and services, with the goal of increasing caregivers' connectedness, hopefulness, wellness, knowledge and skills.
If you are any kind of caregiver, you will most likely find wonderful support from the MVCN.

---
Currently in Congress - Great News!
(December 2016)
On Saturday, December 10, 2016, H.R. 6416, the Miller-Blumenthal Veterans Health Care and Benefits Act of 2016, unanimously passed the Senate and was sent to the President's Desk for signature into law. Among the 76 separate provisions of the bill are measures aimed at improving veterans' access to care, benefits, education, and homeless assistance.
Also included in the legislation are the provisions of the Toxic Exposure Research Act of 2015, the Associates of Vietnam Veterans of America top legislative priority.
Go to our Government Affairs page for more information.
---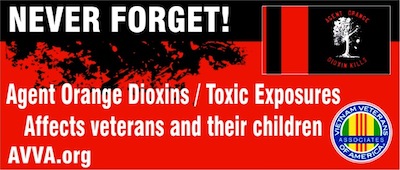 Associates of Vietnam Veterans of America has a new Agent Orange Awareness Billboard! The billboard is located on I-40, East bound at mile maker # 68, out from the Jackson, TN area toward Nashville, TN.
For more information on the affects of Agent Orange, visit: VVA Agent Orange Info
---


VISTA? WHAT IS VISTA?
---