WELCOME TO AVVA
Associates of Vietnam Veterans of America, Inc. (AVVA) is a national nonprofit membership and service organization. Working through the more than 600 local Chapters of Vietnam Veterans of America, and working independently, AVVA supports the needs of all Veterans, their families, and their communities.
On this website you should be able to find almost any information you may need regarding the basic functions of AVVA. Please check out all of the links and various pages in this site to learn more about AVVA and your connection to us.
---
---
FIND INFORMATION ABOUT THE AVVA LIFE MEMBER SPECIAL WHICH WILL BEGIN NOVEMBER 1ST, 2015!
---
THE AVVA 'TOGETHER ALWAYS' BRAND:
The Associates of Vietnam Veterans of America's brand is TOGETHER ALWAYS™. Since the organizational meeting of the Associates of Vietnam Veterans of America (AVVA) in 1999, the brand TOGETHER ALWAYS™ has been our tag line to describe the AVVA services and describes our sentiment toward Vietnam Veterans of America, Inc. (VVA). AVVA has always dedicated and focused our TOGETHER ALWAYS™ projects and programs to enhance the lives of the Vietnam Veteran and their families. We will continue to work alongside VVA and we will support their accomplishments, needs, and efforts as long as the two organizations exist. It is AVVA's intention to carry this brand through to the future, to mean that we will stay TOGETHER ALWAYS™ with all Veterans, from all eras.
---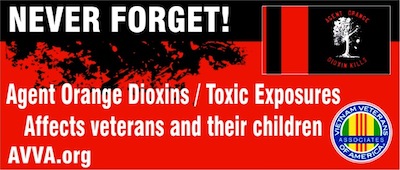 Associates of Vietnam Veterans of America has a new Agent Orange Awareness Billboard! The billboard is located on I-40, East bound at mile maker # 68, out from the Jackson, TN area toward Nashville, TN.
For more information on the affects of Agent Orange, visit: VVA Agent Orange Info
---
IMPORTANT MEMBERSHIP APPLICATION INFORMATION!
AVVA HAS A NEW ADDRESS FOR MEMBERSHIP APPLICATIONS AND RENEWALS!!!
All Membership Applications, whether new members or renewals, MUST be sent to the following address:
Monument Bank
AVVA Lock Box
8602 Colesville Road
Silver Spring, MD 20910
If your applications are not sent to this address they will be returned to you as "Undeliverable". We have sent out notices to every venue we have access to. Please make note of this change.
Thank you,
National Membership Chair

---
VISTA? WHAT IS VISTA?
---
SHOP.COM - AN AVVA FUNDRAISING SOURCE!
Click here, to learn how AVVA's Shop.com portal can make money for you, AND for AVVA.